Make: ABG VIN Number: KL11 Condition: New used one year.urgent need for sale.
Rs 60,000,000
Make: Langendorf Mileage: 38,700 Kms Year: 2000 Type of car: Pickup Trucks Condition: used Tempo excel show room condition for sale. New
Rs 18,500,000
Make: Mazda Model: Other Mileage: 78,000 Kms Year: 2001 Condition: used Lorry for sale.  Good running condition. All papers up to date.
Rs 0.00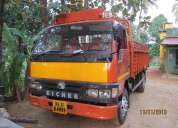 Mileage: 85,000 Kms Year: 2009 Condition: used Eaicer 10.95 exellent condition for sale only 85000 kms driven 2009, 10th month Call:
Rs 0.00